Where can I find my Old National checking or savings account number?
Within Online Banking, your full account number can be found through the following steps:
After you log in to Online Banking, click on the account name for which you want an account number. Please remember that your account number will be different for each account.
Clicking on the account name will take you to the Account History page. On this page, click on Account Details to reveal more information about your account. Your full account number is the ACH number.
On the bottom right of the account details, you can print your account detail information or click the X to close the account details.
You can also find your full checking number in the following ways:
On a mailed statement or eStatement within Online Banking. Your account number is on the upper right corner of the statement.
At the bottom of a physical check or the bottom of a check image within Online Banking. You will see three sets of numbers at the bottom of the check. Your account number is the center set of 7-10 numbers. (Note that the set of numbers on the left, 086300012, is the Old National routing number.)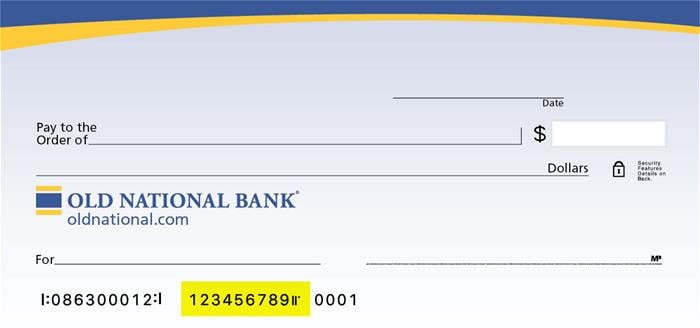 Visit any Old National banking center for assistance.
Still have questions? Enter them in the Search box below.