WHY A PERSONAL LOAN COULD BE SMART FOR PAYING OFF YOUR DEBT
A personal loan for debt consolidation is a way to simplify your finances, save money on interest payments, and focus your efforts towards one monthly payment.
A Debt Consolidation Loan: How It Works
When you have high-interest debt, typically from credit cards, you end up paying a lot of money toward interest. A debt consolidation loan gives you immediate cash to pay off your high-interest debt and replaces that debt with your new loan. If your new loan has a lower interest rate than you were paying on your old debt, you could save money on interest, while also having lower monthly payments.
People who choose to consolidate debt often have many sources of high-interest debt. For a real-world example, let's say you had $6,000 in credit card debt at 16% interest, $2,000 remaining on an auto loan at 9.5% interest, and $4,000 in medical bills, with a late fee of $100 added each month until it is paid off.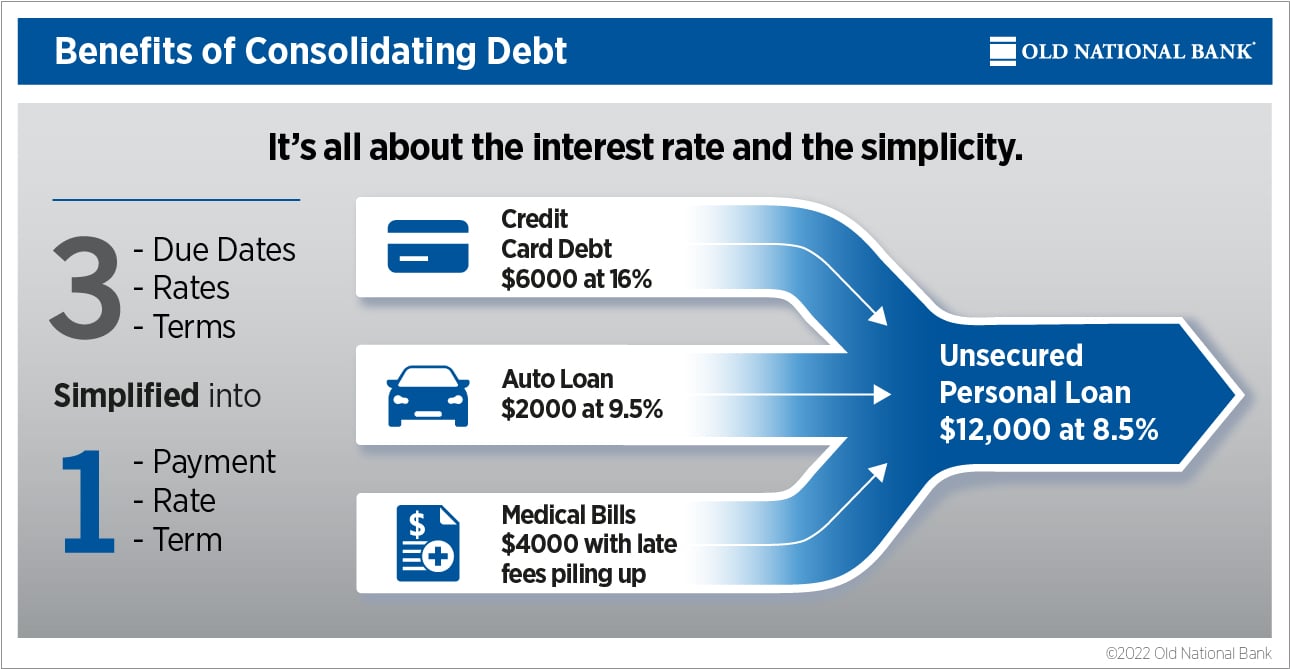 If you took out a $12,000 debt consolidation loan at 8.5%, you could use those funds to pay off all your other debt immediately. And you would save 7.5 percentage points of interest on your credit card debt, 1.0 percentage point on your auto loan, and you'd avoid the $100 monthly late fee your medical provider was charging. Over the long run, you could save money — and, if the term lengths of your new and old debt were the same, you could have a lower monthly payment.
What Are Debt Consolidation Loan Rates and Terms?
The rate you receive depends on your credit score, your loan size, your loan term, your monthly income, and other factors. Rates also depend on the broader rate environment. Rates on an unsecured Personal Loan through Old National Bank are up to 25.00% APR.
EASY PERSONAL LOAN APPLICATION
The loan term, also known as the length of the loan, is also an important decision. Typically speaking, the shorter the term, the lower the interest rate. In fact, you save quite a bit of interest by paying off your loan faster — not only is your rate typically lower, but the principal has less time to accrue interest.
So why doesn't everyone always opt for the shortest term? It's the monthly payment — the only way to pay off the loan faster is to make bigger monthly payments. Not everyone has the cash flow to afford that. When deciding on a term that is right for you, you should strike a balance between saving on interest and making sure that the monthly cost is manageable.