How Old National Bank and Didómi created a gift of gratitude with a ripple effect
It started at a networking event. Two professionals met at a Boys & Girls Club event in 2022. A year later their companies partnered to create a custom gift for 350 local employees that also provided water access to 400 people abroad.
Every year, Old National Bank tasks each of its markets' Associate and Community Engagement (ACE) Committees to find a gift to show their team members appreciation.
The Minnesota (MN) Market's ACE Committee has made it its mission the past three years to give its gift a dual purpose:
Show team members appreciation
Support Black, Indigenous and People of Color (BIPOC) businesses/nonprofits
In 2021, the MN ACE Committee partnered with Feed My Starving Children to support Bolivian artisans by purchasing "Hope Bowls" to give to each MN team member at Old National. The inspiration of hope was meaningful to the team after a tough year with COVID, where a majority of Old National's team members were frontline workers.
In 2022, the MN ACE Committee partnered with local BIPOC-run businesses and clients of the bank to provide team members with a "Better Together" themed coffee mug, snack, and a reusable bag. Again, the gift matched the sentiment of the year for Old National team members, who at that time had recently undergone a merger of equals.
After a chance meeting between an Old National team member and Lamah Bility, co-founder of Didómi, a partnership was formed, and the process began to create a custom team member appreciation gift for 2023. Didómi, which was started in Minnesota by two immigrants who endured the water crisis, is a social enterprise that uses funds generated from water bottle sales to combat the water crisis in Africa.
"We were really excited to partner with Old National Bank, a great company that cares about making a difference. Thanks to this partnership, Old National Bank helped us meet our project fund goal. Didómi is teaming up with Stream of Hope, a group in Ethiopia, to bring clean and safe drinking water to more than 2,500 people in the South Wollo Region. This is a big step toward helping others and creating a better future for these communities," Bility said.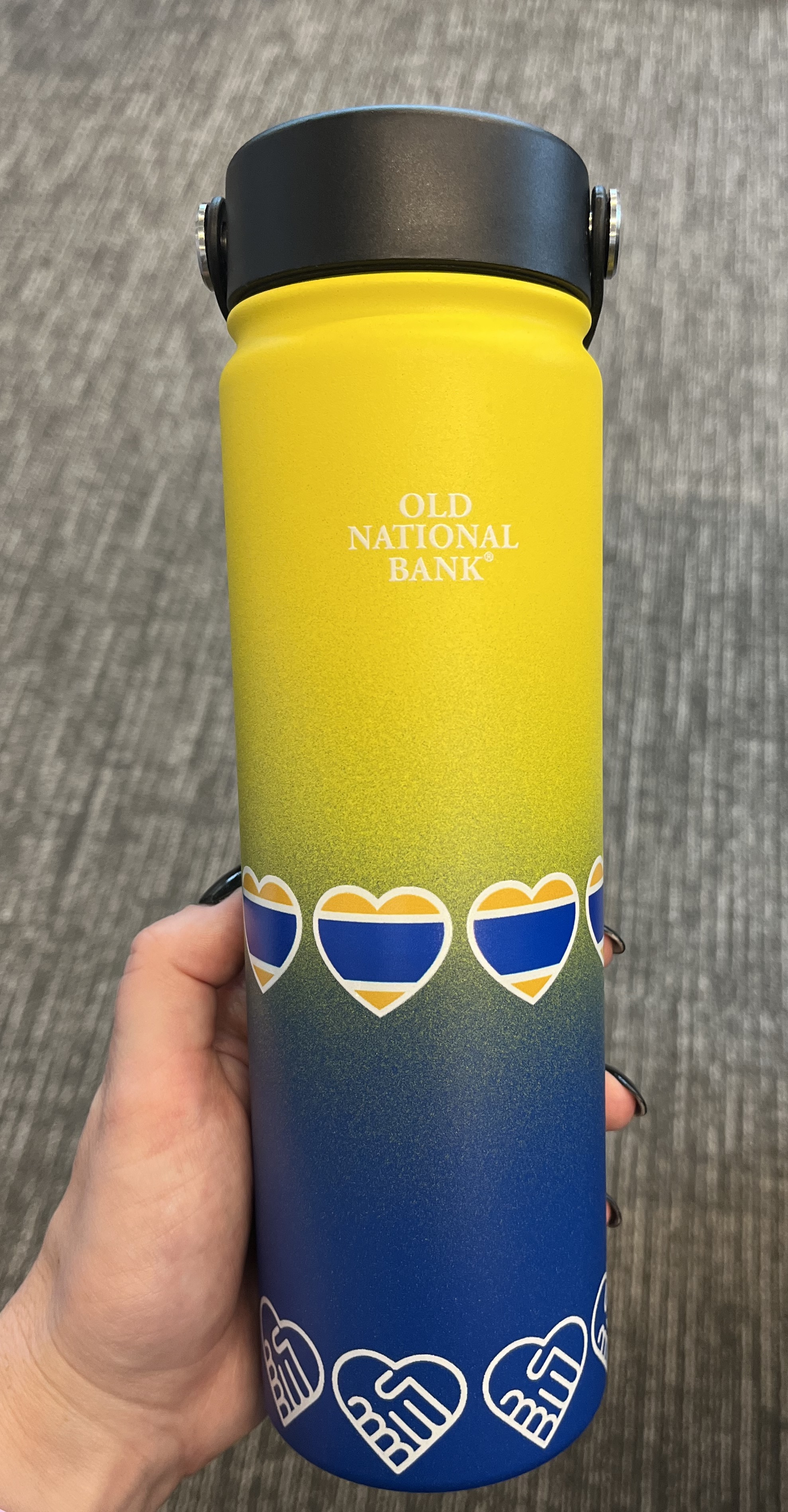 The 24-oz bottles have Old National's blue and yellow colors and feature both organizations' logos. Old National's heart logo hugs the middle of the bottom symbolizing the bank's slogan "Love for Louisville," while the second heart logo toward the bottom symbolizes the bank's commitment to community. The bottom of the bottle says, "Do Good."
The Love for Louisville heart refers to the tragedy Old National experienced in April 2023 with the shooting of five of its team members in Louisville.
"This year, our team came together and supported each other through the worst of times. For our appreciation gift, we really wanted to focus on giving love and support to our team members, as well as gratitude," said ACE Committee Member Christy Cotner. "It was such a meaningful experience to be able to work with Didómi to create the design of the bottle that showcased our two organizations while carrying out our mutual missions to do good."
The Minnesota Market of Old National has over 30 locations and approximately 350 team members.
"Every year our Minnesota team looks forward to seeing what the ACE Committee has come up with, and every year they manage to top the previous year's gift!" said Old National's Minnesota Market President Julie McDonough. "I'm incredibly proud of the thoughtfulness behind this year's gift, and we're pleased to support a local company that aims to create global change."